Return to Headlines
Athletes Compete in Special Olympics
The Greenbrier School District is a proud partner with Special Olympics and Unified Champion Schools! Special Olympics provides opportunities for students with disabilities to participate in athletic events year round. Each year students from Greenbrier participate in bowling, basketball, aquatics, and track and field events. Winning athletes and teams are able to advance to area and state finals through Special Olympics Arkansas (SOAR), allowing them to compete with students from all over Arkansas.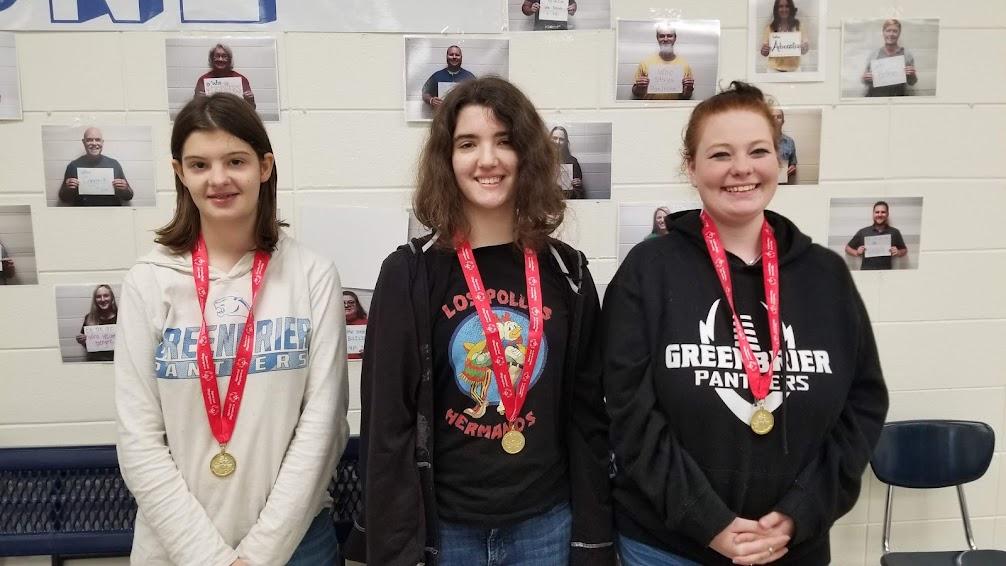 Three Greenbrier Schools are Unified Champion Schools, having met the rigorous requirements set forth by the organization. Wooster Elementary School, Greenbrier High School, and Greenbrier Junior High all have met the parameters required by UCS, which aims to promote inclusion by facilitating athletic events featuring regular education and special education athletes. These schools have student-led organizational teams that plan events and promote inclusion on their campuses.
Yesterday at Greenbrier High School students participated in a Unified Champion School Leadership Activities Day. 109 students from FBLA, FFA, and Focus came together with our student athletes for a fun day of competition. GHS teacher, Allen Hilsdon, helped make this event possible by securing a $3,000 grant for the school. Students competed in kickball, ladder ball, corn hole, freeze tag, a blindfolded ball toss, and several more events. A scoring system was to keep team scores and award recognition to the winning team.
Jessica Brakebill, who coordinates special olympic events for the district, is looking forward to the Summer Games. Each year the Greenbrier School District takes students to compete in the games in Searcy. The Summer Games feature relays, shot put, walking, running, powerlifting, flag football, aquatics, and softball events. Ms. Brakebill has coordinated special olympic events at Greenbrier for the last 10 years while also coaching basketball and bowling. Desiree Brown also assists with the games by coaching bowling and track & field, and there are many opportunities for parents to participate in volunteer coaching.
This year when the state organization canceled area tournaments in favor of automatic state advancement Ms. Brakebill knew it would be important to find another opportunity for GSD students to participate in events. Steve Wood, Athletic Director, stepped in to assist Ms. Brakebill with the implementation of the 1st Annual Greenbrier Unified Basketball Invitational. Students from Clinton, Pottsville, Vilonia, Compass Academy all traveled to Greenbrier to compete with our students, and 22 GHS student volunteers worked the tournament in order to call plays, commentate, serve concessions, and compete alongside our Unified student athletes. Greenbrier Special Olympics is partnering with parent volunteers to bring two new sports into the calendar next year: softball and volleyball.
Greenbrier Special Olympics raises funds by holding an annual Daddy-Daughter Dance each year in February. Included in the ticket price is a unique photo booth experience, and attendees have the option to purchase custom built teddy bears on-site to add to the fun. Ms. Brakebill is also planning to add a Mother-Son Fun Night soon. Greenbrier Special Olympics also thrives thanks to partnerships within the community. Think Coffee donated a portion of their proceeds from their grand opening to Greenbrier Special Olympics, and Dairy Queen and Harps regularly offer discounted prices and/or donations for our student athletes.
When asked about her love of supporting Special Olympics Ms. Brakebill had this to say:
"Before moving into my current role I worked in special education for 14 years as a paraprofessional, and to be able to help these kids and see what they can do is amazing! It is the kindest, friendliest, most helpful group of people, everyone is positive, everyone helps each other, and it's a group effort. Many of our athletes struggle with social skills and confidence, and these events are a huge boost for them!"
The Greenbrier School District is so grateful for the staff, students and parents that make events like these possible. If you are interested in partnering with Greenbrier Special Olympics please contact Ms. Brakebill at brakebillj@greenbrierschools, or contact the Greenbrier Special Services office.